It's that time of year again to save the date:
Saturday 8th December 2018, 7.30pm at the Village Hall
"Music and Mince Pies".
This popular evening of Christmas entertainment is now in its twelfth year and, due to popular demand, we are back! Come and hear carols old and new, readings and stories with a festive theme, a selection of beautiful Christmas anthems from years gone by and take the opportunity to have a good old sing-along to your favourite congregational carols.
Don't miss this opportunity your sixty-strong local choral society in fine voice. Last year tickets sold out and we had a waiting list for returns, so book early to avoid disappointment! Tickets on sale from Monday 8th November, £8 adults £4 children including seasonal refreshments, and are available from Julia (01525 240671) or Rachael (01525 240950).
Please do come and support the Stewkley Singers and get your festivities off to a melodious start. We are already practising hard to help make your festive season go with a swing!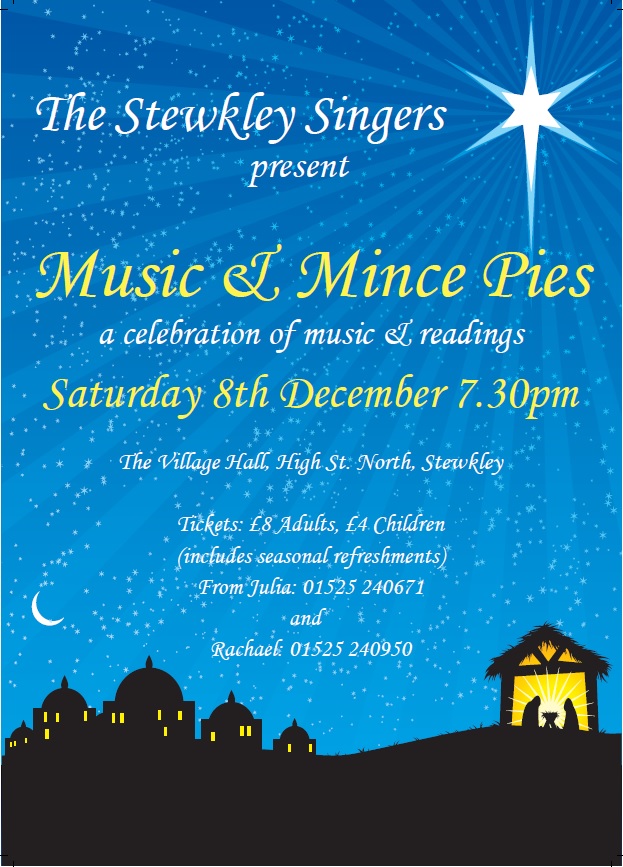 ---
The Stewkley Singers was founded in September 2006 and now comprises a friendly choir of approximately 60 singers aged between 15 and 88 (young people from Year 7 upwards are welcome). We meet in the main hall at St Michaels School, Stewkley on Thursday evenings throughout the Autumn and Spring terms.  New members are welcome; please call our Secretary, Ron Sims, on 01525 240671.
Members come from Stewkley and outlying towns and villages, including Wing, Whitchurch, Cublington, Soulbury, the Brickhills, Adstock, Woburn Sands, Leighton Buzzard, Milton Keynes and Aylesbury.